The Weird Relationship Between Ethereum's Price And Vitalik Buterin
Thu, 24 Mar 2022 00:59:48 +0000
As Ethereum saw a 16% increase from a rally that took the coin to $3,000 on Monday, someone might have spotted an unusual link between Ether's highs and times where the Ethereum Founder's name, Vitalik Buterin, was trending on Google Searches worldwide.
Ethereum And Google Trends
"The last time Vitalik surged on Google Trends, $ETH pumped 2x from April-May," a Twitter user noted while showing a recent surge of the founder's name:

To see if this could actually be taken into account as a possible indicator, we compared different moments in time in which Vitalik Buterin has surged on Google Trends and the price action that followed. In the following chart we can see the most relevant moments during 2022: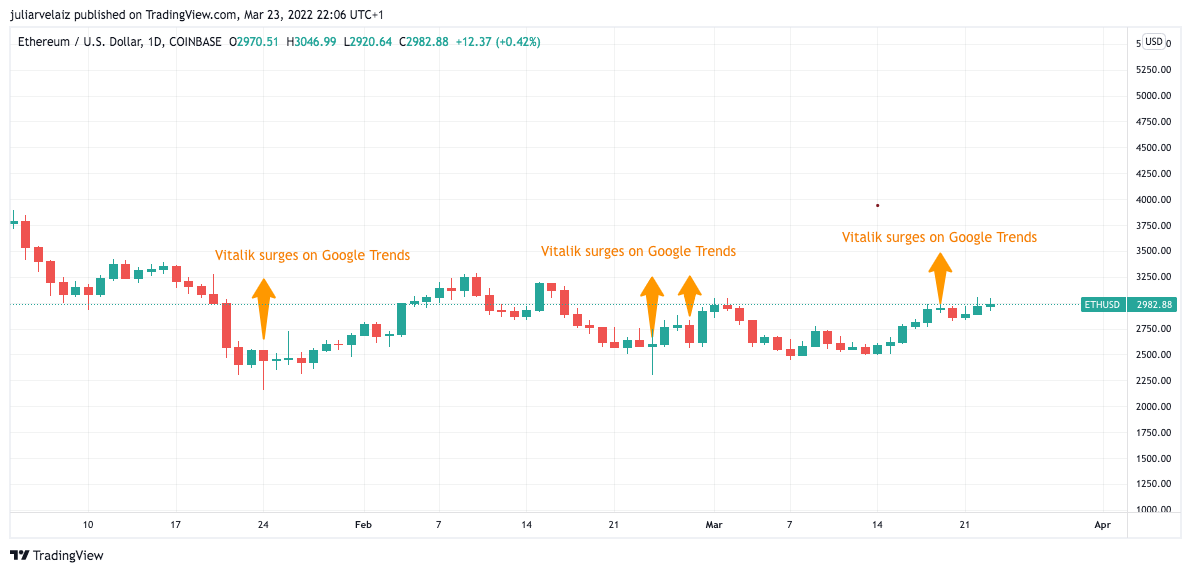 And tracing back to 2021, we can further see this price action (yellow arrows still point at moments in which 'Vitalik Buterin' surged on Google Trends):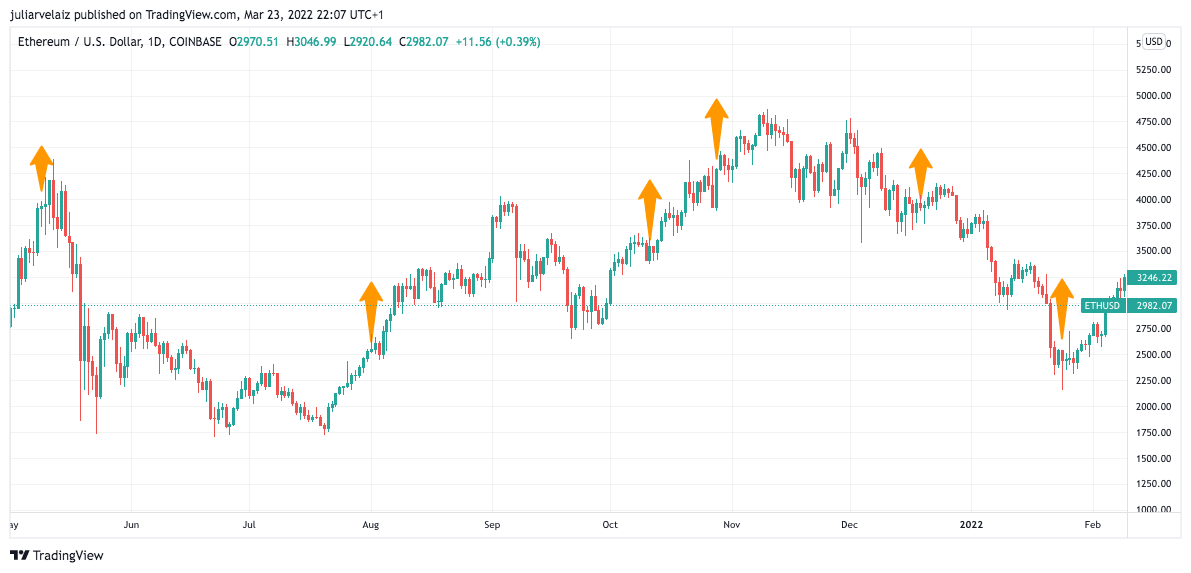 But does it really mean the price has increased after people get interested in googling Vitalik?
The trending searches most likely followed these news: Buterin revealing he has burnt 505 trillion SHIB tokens in January 2022; similar SHIBA related news in October 2021; earlier in the same month he trended after calling El Salvador's decision of making Bitcoin a legal tender "reckless"; then on August of the same year, it was the five-year anniversary of Ethereum and he addressed several issues and the complexity of Ethereum 2.0; on May 2021 Vitalik became a billionaire as Ether hit $3k.
The most recent spike in searches is most likely due to the article on Vitalik released by TIME Magazine, which features the Ethereum founder on the cover and is titled "The Prince of Crypto Has Concerns."
The article's writer, Andre Chow, called him "one of the most fascinating and arguably important people on earth," and on Vitalik's side, he expressed several concerns about the decentralized finances (DeFi) and NFTs spaces.
"Ultimately, the goal of crypto is not to play games with million-dollar pictures of monkeys, it's to do things that accomplish meaningful effects in the real world."
After comments such as this one and the intriguing public figure of Vitalik (often portrayed as a myth of a modern genius), it is only natural for a spike on Google Searches.
Related Reading | What This Pattern Spells For Ethereum In The Coming Weeks, Pullback In The Cards?
However, going back to the possibility of this to push Ether's price up 2x, we further noticed that for the mentioned April-May case there do not seem to be any big surges for Vitalik's name until May 13th, which was already after Ether hit an all-time high of $3,456.57 around May 4.
Alongside this uptrend of May 2021, it would be more relevant to take into account Bitcoin's upward movement at the moment and a growing institutional interest in Ethereum.

But Will ETH Go Up?
As NewsBTC reported before, ETH is currently outperforming, and this is probably linked to the upcoming updates of the network as the Mainnet is ready to perform The Merge after it was recently deployed on the last testnet, meaning an official switch to proof-of-stake consensus.
There has been a lot of excitement about reaching the final phase of these updates, and it is clear that as the final phase is set to begin around mid-2022, many people are paying attention to the network and its coin.
Related Reading | Vitalik Buterin On How To Eliminate Ethereum Network Congestion And High Fees
A pseudonymous trader noted that "ETH is currently at the resistance of $3040 which is an important level for ETH to break in order to rally higher. A rejection will drop the price back to $2.9k to $2.8k." Moreover, there seems to be an inverse head and shoulders forming, and as the coin approaches the neckline, it will need an uptrend next week to trigger the bullish pattern. A downtrend remains possible.
BTC Takes A Tumble?
On a similar note, Blockware Solutions recently shared a chart that showed Google searches for 'Bitcoin' taking a tumble and tweeted: "While the rest of the world ignores Bitcoin, hodlers continue to stack the most scarce asset on the planet."
However, if we search 'Bitcoin' (the red line below) on the Google Trends analyzer and compare it to 'Ethereum' (the blue line), we see the following action:

And even if we add in 'Vitalik Buterin', 'Bitcoin' searches still seem to remain higher than anything Ethereum-related. Here we can see 'Bitcoin' represented by the blue line, 'Ethereum' by the yellow line, and 'Vitalik Buterin' by the red line.